Last December, Host Hotels & Resorts Lodging Investment Trust, along with Destination Hotels Group, launched a new hotel concept in Downtown Miami.  The YVE Hotel, a 243-room facility located in downtown Miami adjacent to the American Airlines Arena boasts an excellent view of the Port of Miami.
The YVE Hotel has partnered with the Wynwood gallery Art Bastion, a Miami art agency which represents artists from across the globe.  Wynwood will curate the YVE Hotel with works of art, as well as offering art tours of Miami to the guests.
YVE is over the top as far as guest amenities go.  Not only will guests be treated to a 42 inch Smart TV but also hi-tech telephones, YVE brand fragrances, and a fitness center, in addition to the standard amenities.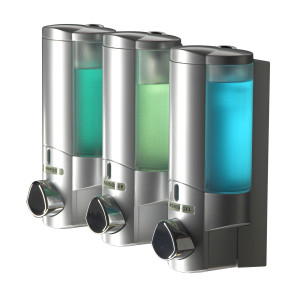 Our relationship with the YVE Hotels began before its opening when the General Manager, Robert Festinger stayed at an Aloft property.  Since every Aloft Hotel worldwide uses our AVIVA II with Basket Dispenser, Robert, was bound to see it.  As soon as he did, he decided he would love to see them in his new hotel!
Shortly after his stay we were contacted by Mr. Festinger who wanted to use our AVIVA Dispensers at the YVE Hotel.  After some discussion he decided to go with our AVIVA III Satin-Silver Translucent Dispenser.  The Dispensers look just fantastic in the hotel showers.  The bold colors of the liquids shining through the translucent bottle really makes the AVIVA stand out in the showers.
The hotel has very quickly become a popular travel destination and the rooms are a hit with the guests.  Reviews on Tripadvisor praise the property for its outstanding style and convenience.  YVE has very clearly positioned themselves for long-term success in one of the USA's largest tourist destinations.