Last year, Dispenser Amenities was approached by one of the most fascinating hotel projects in South America: BioHotel Organic Suites. Owner Samuel Huertas was enticed by the quality and look of our new iQon Chrome Dispensers. After a short discussion, Samuel was convinced that our Dispensers were the perfect look for his innovative 72-room eco-property and had them installed in every guest shower.
                From the water treatment plant in the basement to the vertical gardens and green roof on the building's exterior, BioHotel has sustainability sewn into its fabric. The hotel management conserved natural resources during construction by maintaining strict criteria for the building materials and methods and, as a result, BioHotel has obtained a LEED Gold status among a multitude of other eco-friendly certifications. The furniture is constructed from recycled wood, the carpets and sheets are made from 100% recycled fibres, and the mattresses are made with organic materials.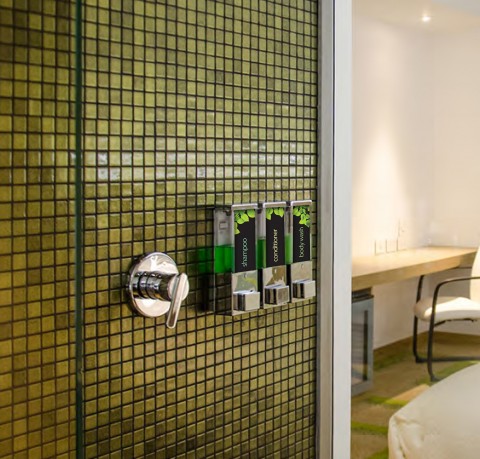 On the energy side of matters, the hotel utilities natural light during the day as often as possible. Of course, some form of energy will always be required, but BioHotel tries to stay off the grid as much as possible. Its energy needs are supported by a 72 solar panels, and the "eco-gym" makes use of specialized gym equipment that transforms its users' caloric expenditure into useful energy for the hotel. 1 hour on one of BioHotel's elliptical powers more than 3 laptops.
The food served in the hotel's restaurant is of the finest quality, while still maintaining the hotel's edict of sustainability. BioHotel has made agreements with providers of organic products available locally and internationally, and even grows its own organic produce in-house. Its vegetable gardens are further complemented by beautiful vertical gardens throughout the property and a green roof.
                BioHotel was constructed to embrace sustainability without losing any luxuries. The hotel grounds include a business centre, soundproof suits, covered parking with 24-hour surveillance, a spa with a sauna, Turkish sauna, and whirlpool, and four high-tech event halls. Services offered 24 hour room service, laundry and EMR service. To cut down on plastic waste, the hotel's high-quality bathroom amenities are supplied through Dispensers. Lastly, as a touch of home, each suite comes with a complete kitchen for guests to throw together anything from a snack to a feast. One can feel pampered at the luxurious BioHotel Organic Suites in Bogota without any of the corresponding guilt about impacting the environment.
                Clearly a great deal of thought went into both the guest experience and the hotel's carbon footprint. Mr. Samuel Huertas truly deserves praise for this incredibly forward-thinking hotel.