The Eco-Travelers Club is looking to raise awareness about the problem of Plastic Pollution from disposable hotel amenities.  There are 13,759,577 hotel rooms worldwide and counting, nearly all of which provide shower gel and shampoo amenities to their guests.  The traditional method of providing the shower liquids to guests is to package the liquid into little plastic bottles which are placed in the bathroom.   This is a big waste problem!  Every time a guest opens one of the bottles they are provided, no matter how much of the liquid is used, the bottle is now considered waste by the hotel.  On average the guests at hotels only use about 50% of body wash and even less of the shampoo and conditioner.  Occupancy of hotels on average is about 60%.  This means that if hotel guests only use 1 bottle of shampoo and 1 bottle of body wash during their stay then hotels worldwide will dispose of 6,026,694,726 plastic amenity bottles annually.  This figure does not include conditioner, hand soap, body lotion, or bar soap, many of which are popular items at hotels.
This cannot continue!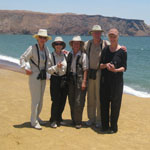 The Eco-Travelers Club is a small group of travelers who are dedicated to solving this problem.  Our company – Dispenser Amenities – provides a solution to the disposable plastic amenities disaster and we are asking you to lend your voice to the issue.  We are currently running a contest event on Facebook and for every entry we will donate $1 to the Plastic Pollution Coalition.  We are giving away 10 of our luxurious eco-friendly shower dispensers every month, and a grand prize of $500 cash!  Come join us at www.facebook.com/ecotravelers to enter our charity contest and help us raise awareness about this issue.