In Dispenser Amenities' hometown London Ontario, the world-renowned Western University (Western) has launched a campaign to become the "greenest" campus in Canada. 
A few months ago, Dispenser Amenities' Accounting Administrator and Western Alumni, Aja Lee, visited the Western campus when she noticed a large new structure erected at one of the major foot-traffic hubs of the university.  It was a waste cage partially filled with bags of discarded drink containers which were to be sent for recycling.  The signage on the front indicated that, moving forward, students are encouraged to use refillable beverage containers as opposed in place of disposable containers that contribute to landfill waste.
 The campus is on quite a roll in regards to their sustainability efforts.  Earlier this year, in March, they were awarded the Environmental Leadership Award by the London Chamber after being nominated by BFI Canada Inc, an industry recycling provider.  A few months later, in October, they also received the Ontario Sustainability Award by the Ontario Chamber of Commerce.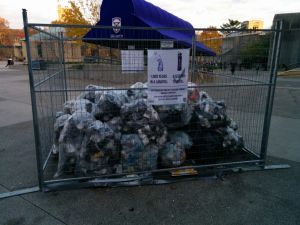 In their continuing effort, Western has recently hosted an electronic waste collection event bringing in over 4000 pounds of electronic waste.  Environmentally, it is becoming increasingly important that electronic waste is properly disposed of because much of it contains highly toxic material.  
 Western introduced several other sustainability efforts in their campaign to be the greenest:
 A sustainability newsletter to keep students informed about how they can contribute to the effort.
A campus map available to all students including bike rack locations as well as publically available showers to encourage students to ride their bike to class.
A public dashboard mapping out the energy use and details from all of the different faculties.
Switching to all natural cleaning products.
Offering an environmental writing course to continuing studies students.
We are getting quite familiar with Western here at Dispenser Amenities.  On top of their having educated our amazing Accounting Administrator, and our having researched all of their great initiatives listed above, we had the pleasure of recently outfitting Brescia, one of Western University's colleges, with our premium AVIVA III with Stainless Steel Basket Dispensers!