This has been a busy month filled with tradeshows for the Dispenser Amenities' team worldwide. Our first show was the China Cruise Shipping Conference 12 in Sanya, China from November 5th to 7th. The CCSC12 was quickly followed by the Boutique Design New York (BNDY) show from the 12th to 13th.
China Cruise Shipping Conference 12
Miranda kicked off our November tradeshows in Sanya, China for the China Cruise Shipping Conference 12. This show has truly grown by leaps and bounds, keeping in step with the entire Asian cruise market which is booming. In 2016, the number of cruise guests departing from China has increased to 2 million; this number is expected to increase fivefold to 10 million within just ten years. While the current trend is for cruises in the North, near Japan and South Korea, the future of the Asian cruise market is expected to lie in the South Sea and with shorter, 4-5-night trips.
Because of the rapid growth in the Asian cruise market, many shipbuilders are jumping in with both feet. Genting Hong Kong has pledged to build 1-2 ships per year specifically for the Chinese market. The first of these ships will be ready in 2020. Similarly, MSC Cruises anticipates ten new ships over the next decade. Not all Pacific cruises are aiming for short-duration trips, however. Hurtigruten Cruises announced that it is opening a brand-new 88-day cruise that will travel from the Antarctic to the Arctic: pole to pole!
The Chinese market is very excited for this new industry to take hold of the region. Qiang Wu, chairman of the China State Shipbuilding Corporation spoke at the conference and expressed his pride in China's new shipbuilding capabilities. Cruise ships are extremely complex, and he sees the construction of cruise ships as the "jewel on its shipbuilding crown." He was quick to reassure the worldwide press, however, that this new capacity is focused solely on the China-Pacific region and is no threat to the European market or industry.
Boutique Design New York 2017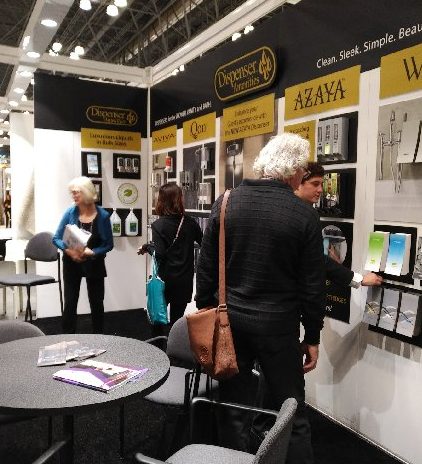 Next, the Dispenser Amenities team flew to New York City for BDNY. The big news announced on the first day of the show was that the BDNY show has acquired its older sibling, the HX show. In recent years, the BDNY side has overtaken the neighbouring HX side, in both size and vibrancy, so this is welcome news. It will be very exciting to see what changes will be implemented for the new, combined BDNY/HX show in 2018.
The New York tradeshows are a fantastic opportunity to show our products to people in the hotel industry who are not yet familiar with the advances Dispensers have made in recent years. It's always great to hear from new and old customers alike and to show both our brand-new AZAYA model (pictured below).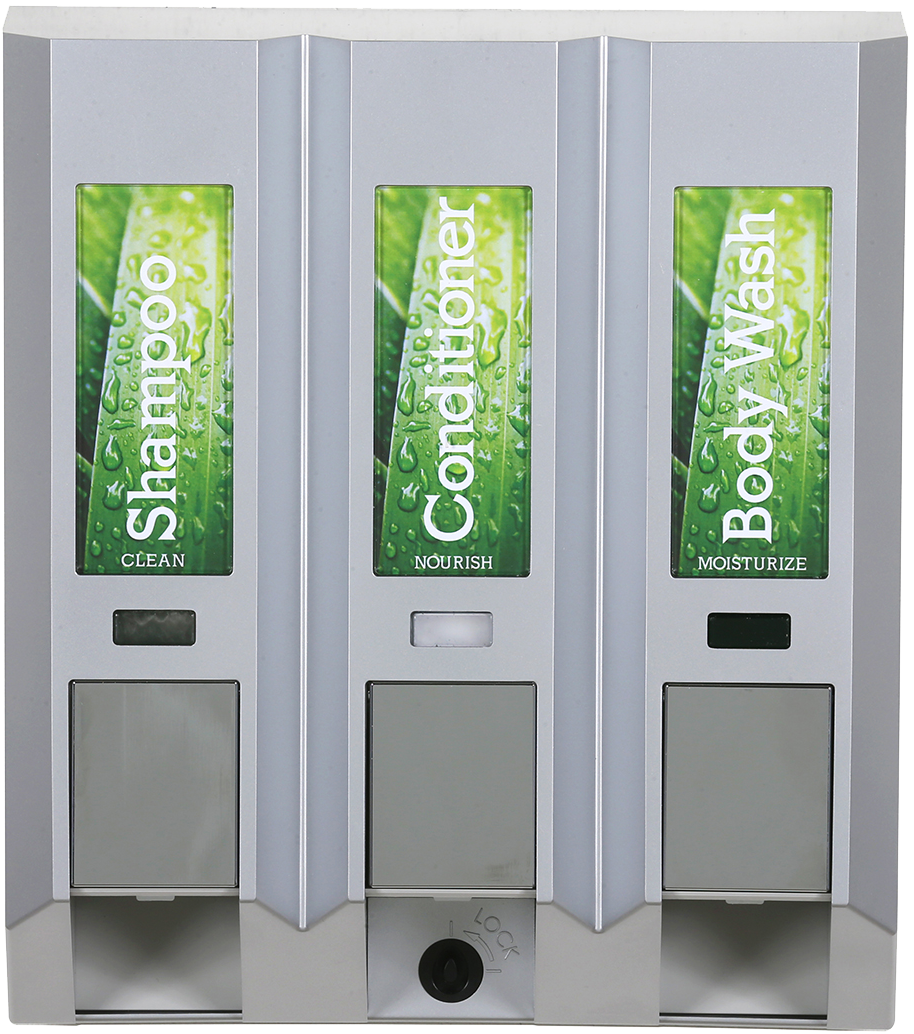 One highlight of the show was a panel discussion featuring Clair Cutting (Director of Sustainability Global Operations, Marriott), Gardner Jackson (Assistant Vice President, Nalco Water Division of EcoLab USA), and Lindsay Wilkinson (Interim Director of Corporate Responsibility, IHG), moderated by Glenn Hasek of Green Lodging News. They discussed the role the hotel industry must play in the ongoing battle against climate change. The International Tourism Partnership recently declared that the hospitality industry must reduce its carbon footprint by 90% worldwide by 2050 to play its part in fighting climate change.
Both Marriott and IHG took this as an opportunity to go over many of their current and planned sustainability programs. Marriott is emphasising their goal of using only renewable energy to power their hotels whenever possible and a target of reducing hotel waste by 45% by 2025. Due to the difficulty in tracking hotel waste, they see food waste as the low hanging fruit to eliminate. Lindsay Wilkinson took this opportunity to discuss IHG's online Green Engage tracking program. All properties, both managed and franchised, must obtain Green Engage's Level One standard to remain an IHG branded property. 80% of these properties have qualified for levels above One.
One attendee inquired about what impact shower Dispensers will have on reducing hotel waste. Many of our readers are already aware that we are in every Four Points by Sheraton, Aloft, and Element property worldwide in Marriott's portfolio. Considering the difficulty in tracking so much of the waste generated by hotels, eliminating individually bottled amenities is a great and easy step for brands to reach their sustainability goals. We look forward to working with more brands and independent properties every year.