In the hospitality industry, hoteliers are not only looking to cut down on the waste being produced within their hotels – they're looking to provide convenience, and not just for the guests. One of the aims of every hotel is to increase the efficiency and productivity of its housekeeping staff. As providing personal amenities to guests is a regular and important part of their duties, this task is an optimal area to increase efficiency.
This is why we created the new WAVE with a View and AZAYA models. They provide a new and elegant level of convenience for guests and staff, making the rooms as comfortable and convenient as possible.
WAVE with a View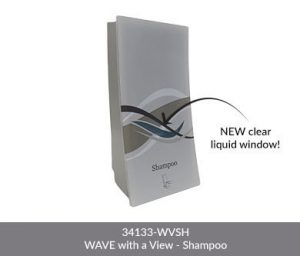 Guests never want to be surprised with an empty dispenser, especially if they've already begun their cleaning routine. For this reason, it's important for the housekeeping staff to be able to tell when the rooms' dispensers need refilling. That's why we've updated the WAVE model to give it a capacity window. It retains all the function, reliability, and beauty of the older model, with an added convenience: a liquid level indicator.
The new WAVE View comes with this addition for the benefit of both guests and staff: the liquid level indicator allows anyone a quick view of what's inside, letting them see if it needs refilling. When guests see it, they know that their amenities are well-stocked and won't run out. When housekeeping sees it, they know when the amenities need replenishing. It's a great alternative to the individual amenities bottles that create so much unnecessary waste and expense.
AZAYA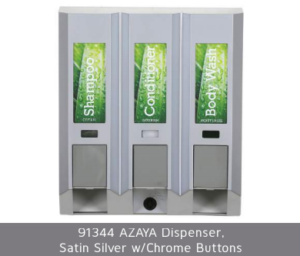 Our second brand-new Dispenser is the AZAYA model, which brings three dispensers together for guests: shampoo, conditioner, and body wash all in one! It's a beautiful, low-waste addition to any room, with a similar liquid level indicator as the WAVE View.
It comes in Chrome and Satin Silver to compliment any hotel room decor. For the convenience of staff, there is the option of using refillable bottles or prefilled, recyclable cartridges. It's an incredibly easy model to install, use, and refill. The AZAYA also has the added security of locking lids, adding a final touch of peace of mind. It's an excellent product that lets hoteliers easily eliminate the thousands the individual amenity bottles used in and thrown out of their rooms annually.
The new WAVE and AZAYA models provide added convenience mixed with a touch of modernity. They are two truly beautiful products that the hospitality industry can use to reduce waste, make rooms more environmentally friendly, and add an extra layer of comfort and convenience for staff and guests alike.