Dispenser Amenities is very pleased to add another award-winning hotel to our portfolio!  Our customer, Home2Suites Frisco, was recognized with The 2013 Connie Award.  This award signifies the top tier of prestige bestowed upon hotels.  The Connie Award, named after Hilton Worldwide's founder Conrad Hilton, is awarded to top hotels that lead the brand in quality assurance, brand standards, and customer satisfaction.
Home2Suites Frisco is a contemporary property that features vibrant colors and modern furniture throughout.  It is pet-friendly, and boasts free wifi, cooking and work spaces in all suites, as well as the innovative Home2Cycle where you can multi-task by exercising and doing laundry at the same time!
Our journey with the Home2 Suites by Hilton brand began in 2007 when they began testing our WAVE Dispensers in select locations.  As time went by, they began to love our products more and more, eventually making the decision to implement the program in every Home2Suites by Hilton location worldwide.
In 2011, Home2 Suites approached us with a new idea.  Their guests were just ecstatic over the Neutrogena liquid brand that Home2Suites had been supplying through our WAVE Dispensers.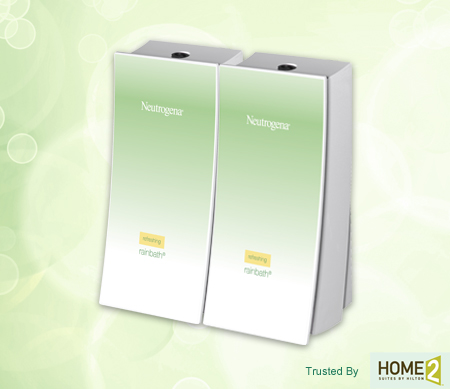 With this in mind, they made the decision to move forward in branding our WAVE Dispensers with the Neutrogena label.  This turned out to be a tremendous success!  Home2Suites has received great feedback regarding the newly branded WAVE Dispensers.  Happy guests have been showing their satisfaction through direct praise, increased business, and online reviews.  Diana D, from Binghamton, New York left the following review on TripAdvisor:
The colors are a bit bright, but not off putting in the least. Neutrogena shampoo dispenser and body wash dispenser on the wall of the shower – incredibly convenient.
Dispenser Amenities partnered with the Home2Suites by Hilton Frisco location in August, 2012 when the hotel installed custom Home2Suites WAVE Dispensers in all of their guest rooms.  This special unit is one of our most beautiful, complementing the signature contemporary décor of Home2Suites Frisco.  The Home2Suites WAVE Dispenser is available exclusively to Home2Suites locations.
The privilege of providing this excellent product to every Home2 Suites on the planet is a pleasing thought.  We would like to extend our congratulations to the Frisco location for their recent recognition, and we wish to thank the entire brand for including Dispenser Amenities in the excellent service that they provide to their customers!