Harrah's Resort SoCal is not only one of San Diego's premier hotels, it's also one of the most environmentally-conscious resort destinations in the state of California. The commitment to helping the environment hasn't stopped visitors from having fun – it's only added to the unique experience.
The CodeGreen initiative, now several years in, has allowed Harrah's Resort SoCal to revamp how they get and use energy, how they deal with waste, and even how they source their food. Whether you've come down to enjoy the sun, golf, or the casino, everything this resort has to offer is built on an eco-friendly foundation!
Cutting The Waste
The commitment of Harrah's SoCal Resort to sustainability starts with their energy, both in where they get it and in how they use it. Inspired by the sun-seekers that head to southern California to soak up the rays, the resort's massive solar panel field has generated 2.46 Gigawatt hours or 2.4 billion watt hours since being installed. This is enough energy to power a television for 11,000 years! They also own the largest solar field of any Harrah's property in the U.S.
Aside from generating a lot of green power, Harrah's is also very conservative with how they use it. Harrah's CodeGreen initiative means that energy is efficiently utilized within the resort, and plastic waste tossed in the garbage is quickly becoming a thing of the past. Eco-friendly thermostats, low-energy light bulbs, and Dispenser Amenities' iQon Dispensers in the bathrooms of their 1,086 Luxury Rooms and Suites have cut down waste coming out of rooms and reduced energy use per-square-foot by 21 percent since 2007.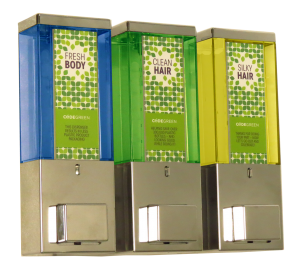 Staying Local
Local taste is a huge commitment to Harrah's SoCal, because eating green means making a lot of choices that keep you close to home. Seeing as there's nothing California can better offer than fresh produce grown in the backyard, Harrah's SoCal Resort has their own garden growing on the property, letting their chefs add some genuine local flavour to every dish. They've even adopted over 500,000 bees to make their own honey and help cultivate their produce; these ingredients have found their way into delicious, original dishes like the honey lavender panna cotta at the award-winning Fiore restaurant.
Making Sustainability Convenient for Guests
Harrah's SoCal Resort helps visitors do their part to protect the environment, too. Electric car charging stations let the greenest visitors charge up for free, and the resort recycles e-waste like computer monitors, televisions, hard drives, batteries and other items that would otherwise live in the ground forever. This is important because recycling precious metals from each phone such as gold and copper significantly cuts down on the carbon emissions produced by raw material extraction. These efforts have even been extended to the surrounding community, making an easy stop for anyone in the San Diego area looking to dispose of e-waste.
Going Green Shows Great Results
The results speak for themselves: Harrah's SoCal won two SD Magazine 2018 Reader's Choice awards for Best Staycation Hotel and Best Overall in San Diego; the resort also earned a AAA Four Diamond Rating and was ranked as one of the Top 10 Casinos in the Country by the readers of USA Today. It all goes to show that taking a green vacation doesn't mean you have to sacrifice your fun, and the CodeGreen initiative at Harrah's Resort SoCal is using these changes to make the most creative, environmentally-conscious experience imaginable!