In the hotel industry, the quality of the guest washroom can turn a mediocre review into a rave review.  In our recent article "What does the average traveler think of Dispensers?", we explored hundreds of TripAdvisor reviews.  We found that guests love the convenience of Dispensers, as well the environmental benefits associated with reducing the small-bottle pollution associated with traditional amenities.
One thing that we have not spoken of yet is how much guests appreciate a basket in the shower to hold their own toiletries!  No matter what amenities are provided, there is still no way around it.  Guests enjoy shaving with their own razors, bringing their special hair treatment products, and using their personal loofah.
This is where our AVIVA Basket Dispensers prove their superiority over traditional amenities programs.  In one convenient, wall-mounted location, hotels can offer their guests top-quality liquids, a large basket to hold all of their personal products, and hooks to hang wash cloths, loofahs, or back-scrubbers.
To top it off, we have Basket Dispensers to suit any size shower.  Our Aviva Dispensers come in several varieties: the two-chambered mini basket, two-chambered standard basket, and three-chambered shower station.  In addition, we are also able to custom-build our units for basket size, placement, and chamber finish.  To complete the look, we can apply a custom faceplate for that extra touch that will impress your guests.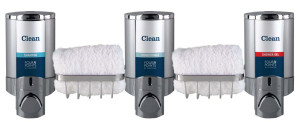 Shown right you can see a custom unit designed and built for and found in every Four Points by Sheraton hotel worldwide!  When Starwood originally contacted us, they asked to us to create a unique design to use in every Four Points property.  Over the months that followed, we collaborated with their branding team to put this unit together and immediately hit the factory to create thousands of units to outfit their properties across the globe.  The results and feedback have been fantastic.  Guests at Four Points locations are raving about how great the units look and how much they appreciate the environmental consideration.  Hotel managers are loving the feedback from guests.  They feel great about the contribution to the environment, and the incredible savings on their amenity costs.