This November, Dispenser Amenities recently exhibited at the largest hotel trade show in the world, Equip'Hotel, held semi-annually Paris.  The 2014 Show was a major success both for us and Norbert Wendling, the representative for our French distributor, Dolcéo.  The Equip'Hotel show is immense, outshining the New York Hotel Show on the international stage.  Featuring hundreds of exhibitors, Equip'Hotel is organized into five different sections, Cook & Serve, Conceive & Design, Welcome & Relax, Clean & Maintain and Manage & Connect.  The show is held on three floors of one pavilion, in addition to a separate building at the Porte De Versailles Exhibition Center.  The Welcome & Relax section is home to the "Bathrooms and Amenities" exhibitors, with stands both large and small filled with diverse offerings of bath- related hotel products.
This is Dispenser Amenities' fourth time attending Equip'Hotel Show with Dolcéo.  Each year, we build on previous successes as we add new prospects and customers, from small independent properties in the French countryside, to multi-national chains.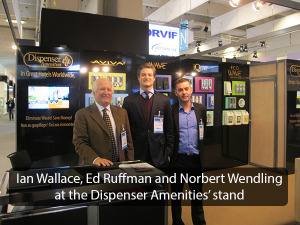 Dispenser Amenities' relationship with Norbert began in 2004 when he first contacted us by email.  He says, "I watched my computer and very soon there was an answer.  They were interested in working with a distributor in France!  We were so excited!  The business began very small and has built each year."  In 2009, Norbert quit his job at a printing company and began working full time with his own company, Dolcéo.  "Dispenser Amenities is a way for the hotelier to save money and eliminate waste.  Each time at the Show, our number of contacts and the interest level grows.  For some time, we would meet hotels and they would say 'Dispensers are not for my hotel.' This year nobody says that any more.  Now they want Dispensers in their hotels and know it is the future." says Norbert.
Dolcéo works with independent hotels in France, while Dispenser Amenities looks after major chain properties directly, creating the perfect partnership.  "That system has worked perfectly since the beginning of the relationship," says Ian Wallace, Dispenser Amenities, President,  "Norbert is totally familiar with the independent approach.  He speaks French and German (he is from Alsace) and handles the unique needs of his customers for Dispensers and bulk liquids with great skill.  He has even found a way to engrave the faceplates of Satin Silver AVIVA Dispensers to offer stunning personalization to his customers."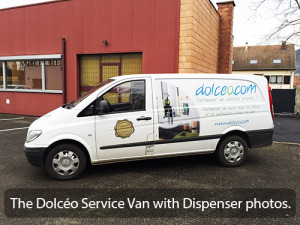 Norbert says, "This year at the [Equip'Hotel] Show, we again met one of our very first customers…really our first big hotel customer…who installed 100 Dispensers in 50 rooms in 2008, after Equip'Hotel.  He tells me how much he and his guests like the Dispensers.  The quality is excellent!"
After a grueling 5 days working from 9:30 am to 7:00 daily at the Equip'Hotel Show, the Dispenser Amenities team, including Ian Wallace and Ed Ruffman, the Dispenser Amenities European Sales Manager, and the Dolcéo team represented by Norbert, celebrated the most successful show in our history.  Exhilarated but exhausted, the team members headed home to Canada, Alsace and the U.K., set to turn the opportunities into new customers.