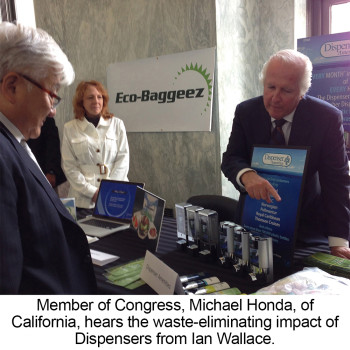 March 16, 2015 was a day created to focus the attention of Lawmakers in Washington on the crisis of plastic waste in our oceans and also a day for 20 Innovative Companies, including Dispenser Amenities, to demonstrate to those on Capitol Hill ways to reduce or eliminate that flow of plastic waste.
Daniella Russo and her organization, Think Beyond Plastic™, have been aware of the meaningful difference in plastic waste made by Dispenser Amenities and our Hotel and Cruise Line customers.  At the present time, our cruise partners keep more than 100,000 plastic amenity bottles out of the waste stream every night by using Dispensers.  Globally, our customers keep more than a million waste plastic bottles from the landfill each day.  Our invitation to take part in this important day was unique to us, as a Canadian Company and our President, Ian Wallace, was honored to participate.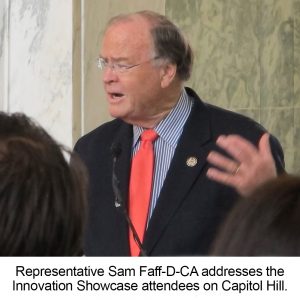 The presentation was organized and supported by the House Ocean Caucus and Representatives Michael Honda and Sam Farr of California spoke to the group of Innovators and attendees about the importance of plastic waste reduction and how innovation in design and material is required to change our disastrous course.  Dispenser Amenities was likely the member of the Innovation Group with the longest and widest market penetration.  Our twenty years' experience in successful plastic waste reduction contrasted significantly with the majority of Innovators who are just entering the market or still working feverishly to get to market.
The massive nature of the problem was brought into focus by Professor Jenna Jambeck, an Environmental Engineer from the University of Georgia,
during a lunchtime panel discussion.  In a recently published study, she and her associates studied the waste production of the 192 countries with Ocean coastline in the world.  Through understanding of the amount of plastic in their waste streams and the ability of these countries to properly handle this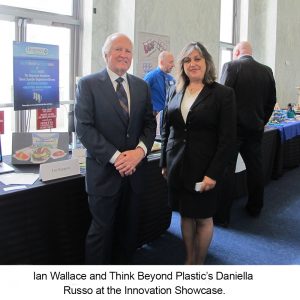 waste, the group determined that 8.8 Million tons of plastic was added to the oceans in 2010, through littering and waste handling mismanagement.  She said, "That is equivalent to five grocery bags of plastic trash added for every foot of ocean coastline on earth, in one year."  That defines a catastrophe.  And her study predicts this amount will double in ten years.
Obviously, our ability to reduce and recycle plastic cannot come close to solving this problem at our present pace of finding solutions.  That's why innovative thinking and innovative product designs are so vitally important in this War on Plastic Waste.  Several Members of Congress and Scores of Congressional Staffers saw first-hand a variety of innovative ways to improve the world's odds in winning the war.