It's great news for the hotel industry that so many properties across the world have been seeking out opportunities to get green certified and institute more eco-friendly policies. Some properties go to such lengths for sustainability initiative year after year.
If you're looking for ideas and inspiration we've compiled a quick list of some of our favorite 'green' leaders making sustainable choices on their properties. The hotels featured on this list are chosen because the facilities look and feel like traditional hotels while still managing huge leaps forward concerning environmentalism.
Hotels Setting The Eco-Friendly Standard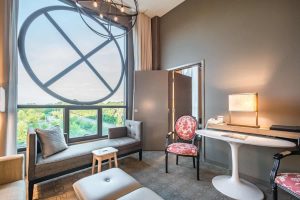 The Proximity Hotel in Greensboro, North Carolina ranks as a top contender in most lists of sustainable hotels. Proximity is employee-owned and the first LEED Platinum named "green hotel".  Everything about this property from design to construction followed LEED Green Building Rating System™. To earn LEED certification, a building project must meet certain design and construction requirements and performance audits within each green category. Look here for the incredible 70+ item list of sustainable choices being made at the Proximity Hotel. A few of the features we admire include: ultra-efficient building materials for 39.2% less energy, 100 solar panels cover 4,000 square feet, geothermal refrigeration cooling, all building materials made of recycled content and water usage reduced by 33% by high-efficiency plumbing.
Hotel Terra Jackson Hole has set itself in a pristine and wild environment right next to the breathtaking scenery of the Jackson Hole National Monument; a fitting location for a hotel known for making sustainable choices. Not only is their property stunning and well proportioned to its natural setting, they are LEED Silver certified and are always striving to improve their eco-friendly habits. A few of the ways they are succeeding with sustainability include green reusables like recycled steel lighting fixtures, organic natural mattresses, site-wide Energy Star appliances and windows, as well as a huge solar energy implementation. Check out more great aspects of the Hotel Terra here.
The H2Hotel is a super stylish eco-hotel that has excellently managed to integrate into their natural surroundings with a construction plan which hugs the hilly landscape. In their brochure, they brag right away that "with one glimpse of the undulating green roof you know you've arrived!". The hotel is located in Healdsburg, California and boasts 36 individually designed eco rooms with private balconies making an extremely intimate organic feel. Like most of the properties on our list, they are LEED certified and built with efficiency in mind. Ironically, the hotel was built on an old gas station lot after the contaminated soil was removed and rehabilitated. Following that, they worked with the community to restore the creek bed and surrounding natural area. They saturated the area with drought-tolerant native plant species and they filter all rainwater through their green roof and vegetated swale. Like other places on this list, they make extensive use of solar panels and recycled building materials. But what's very unique is they also feature a gear-less traction EcoSpace elevator that barely uses electricity. Read more here!
The Green House Hotel in Bournemouth, UK has been passionate and diligent about transforming their elegant, country layout into one of the top 'green' hotels in the UK. Literally, everything about the hotel has been converted to green-approved materials and efficiency ratings including solar electricity for all power resources, and 100% local wool decor, carpets and eco-bedding. Even the wallpaper is made locally from vegetable inks and eco paint. The biggest difference with this property from others on our list is the intense focus on retaining the regal old facade of the building but having absolutely everything inside made of sustainable and local materials which is an interesting perspective — recycling the building, so to speak. It also has the widest range of organic beers and eco spirits in all of England!
The Inn by the Sea is an absolutely beautiful eco-hotel located in coastal Maine right beside a wildlife sanctuary. They're one of the only hotels in the United States to be considered part of a wildlife habitat and certified by the Department of Environmental Protection Act as "green lodging". They even have weekly lectures and garden tours on the 5-acre property that teach guests sustainable practices like planting and caring for wildlife. Wow! They also have an awesome initiative that offers a free consultation with engaged couples to plan green weddings. This property is the first hotel in the state to heat with biofuel and the first to go carbon neutral. They were also the first in the region to enforce a green renovation starting with their plumbing and room infrastructure. The Inn by the Sea is certainly a classic, elegant property with a unique and honest approach to sustainability.
After wandering through the landscape of sustainable choices in award-winning hotel properties we can come back to our central premise. When you think of sustainability it isn't a stretch to think that changing your emissions footprint whether your an Airbnb host or a large hotel owner can start with eliminating single use packaging. It can be your most reasonable starting point or an example of the entire sustainability process that suits both guests and managers.