This is completely insane.  There are two major Hotel Shows in the World and on Sunday, November 11, 2012, these shows both opened, on opposite sides of the Atlantic Ocean.  In New York, the International Hotel Show had just been blasted by Hurricane Sandy.  There were exhibitors who had lost their complete exhibits to the storm and there were empty stalls along the aisles, but 'the show must go on', and so it did, battered as it was.
But across the pond in Paris, Equip'Hotel began its five-day, long-day run in stunning style.  Equip'Hotel does many things right.  For one thing, it occurs only every second year…not annually, like New York.  That makes every edition bigger, better, more anticipated and an absolutely necessary place to be, for every serious exhibitor and every hotelier on the continent.
For those familiar with European Trade Shows, it will come as no surprise that Equip'Hotel is a much bigger show than New York and its steadily decreasing floor-space.  There are four pavilions in Paris, each of which is dramatically larger than the entire North American Show.  But size isn't everything!  The real advantage of Equip'Hotel is the truly amazing investment made by major exhibitors.  Stand construction reaches spectacular heights, both literally and figuratively!  Several firms spend well over a million Euros in the building and outfitting of their stands, absolutely exceptional presentations that simply wouldn't be possible if the event was a yearly one.  It's not unusual for these companies to have a staff of thirty or more in attendance, complete kitchens and food service…and, of course, French champagne and wine flowing throughout the Show.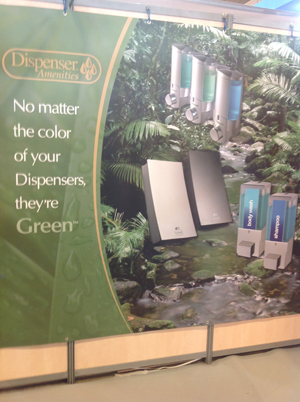 While Dispenser Amenities is not the size of these major European players, we rely now on Equip'Hotel to deliver interested prospects, not just from France and the rest of Europe but from countries throughout the Hotel World.  Hoteliers and Distributors from Asia and Africa are prevalent and they use the Show to make connections with manufacturers and producers who lead the world in design for the Hotel industry.  You see so much innovation at Equip'Hotel, it is virtually an endless variety of "new" and "wow" hotel products.
Our introduction of iQon Dispensers created "wow" at our stand, too.  Its classy elegance caught the attention of scores of prospects who are searching for beautiful ways to reduce waste, while providing exceptional guest experiences.  Green hotel operation is becoming a prime focus around the world.  It has become 'mainstream' and is no longer an exception for Hotels to want more environmentally helpful ways of operating, especially when it makes economic sense like our Dispenser Amenities systems.  
Everyone who manages a hotel, anywhere on earth needs to visit Equip'Hotel.  To end the coincidental dates and the craziness of that approach, New York needs to change to a bi-annual show too, on the opposite years of Paris.  Then every exhibitor and every hotelier will have the benefit of a better, bigger and much more dynamic Hotel Show experience.  This is one situation where 'less' will certainly mean 'more'!  Everybody will win, on both sides of the pond!
By Ian Wallace