Raul Arias de Para has created a family of eco-friendly lodges in the Panamanian rain forest that have set an example that the whole world should be aware of.  The Canopy Tower Family sole purpose for creation was to allow people to experience the magnificence of the rain forest without causing any damage to it.  He believes that eco-tourism is "an instrument of conservation" helping draw attention to the value of the Panamanian rainforest through these experiences.  This however, is actually the happy ending to a very interesting story.
Arias de Para has had quite a colorful life and a vast number of occupations.  He is the grandson of one of the founding members of the republic of Panama, has a Master's Degree in Economics, worked in the banking industry for 10 years, founded many businesses, reached the top of a major Panamanian political party, wrote a best-selling book  and is Vice President of ANCON, Panama's oldest conservation organization.  As the Financial Director of Public Security, Arias de Para helped demilitarize Panama after it was controlled for nearly a decade by the notorious drug-lord, Manuel Noriega.  He had a few run-ins with Noriega personally and was twice detained by Noriega's men during the period of political turmoil.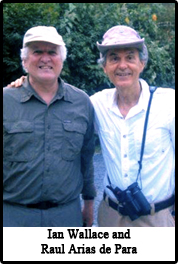 After his political career came to an end, Arias de Para made what some nature lovers might call his greatest accomplishment.  He created the Canopy Tower from an abandoned U.S. radar station.  He spent two years convincing the Panamanian government that he could transform the tower into a specialty resort and do no harm to the forest before they finally allowed it.  He couldn't find a contractor that was willing to work for an affordable cost under these restrictions so he took that job on himself as well.  He hired a crew and together they cut windows into the solid exterior and converted the radar dome platform into a bird-watching deck that overlooks the forest canopy.  He even thought of an idea to recycle soapy kitchen water to run the toilets and get double use from it!
The Canopy Tower eventually turned into the Canopy Tower Family after Arias de Para opened several other Eco-tourism locations in the country.  The Canopy Lodge is where Dispenser Amenities staff had the pleasure of meeting him.  For a birding adventure in 2009, Dispenser Amenities' staff Ian, Heather and Liz all went to Panama to experience the Canopy Lodge in person.  Ian Wallace describes one exhilarating moment of the trip for him:
"On this trip we were guided by an extremely experienced person from Victor Emmanual Nature Tours, Barry Zimmer,  a Red Sox fan and nature lover who has led nature tours all over the world.  He undoubtedly had a life list of birds seen, well into the thousands.  But on this trip some locals reported having seen a bird that would be a 'Lifer" for Barry and the hunt was on.  The "Rufous Vented Ground Cuckoo" is a rather large, very shy bird that feeds on the bugs etc. that are alarmed when Army Ants put in an appearance.  Army Ants travel in swarms of thousands and thousands and can throw the natural food chain in an area into complete disarray.  The Rufous Vented Ground Cuckoo uses the help of the swarm to find food in the area that has been thrown into chaos.
 We immediately left the area where we were birding and took the vans several miles to where the swarm of ants was located.  After a spirited hunt along the ground, virtually on our hands and knees, one of the locals saw the bird, skulking along, several meters into the bush.  Once we had all seen it, Barry erupted into fits of high-fives as this much sought-after bird had finally been added to his life list after years of not being able to find this Cuckoo, on his many trips to Panama.  He immediately called his brother Kevin, also a guide, to tell him of this immense achievement – It was celebration day!"
Arias de Para was at the Canopy Lodge through most of the week that Ian, Heather and Liz were there and joined them at dinner time, with his wife.  He became part of the group and even went birding with them one day.  He askedwhat they did for a living.   They told him that Ian owned Dispenser Amenities, a hotel supplier of eco-friendly shower dispensers and they all worked there.  He immediately said, "We need to have dispensers here."  He invited the entire tour group to visit his home on the Pacific coast for a lunch one day and watch birds at the ocean there.  During their time there, Liz and Ian showed him the Dispenser Amenities online catalog and he immediately chose WAVE Dispensers.  He also offered for the group to all visit the Canopy Tower on their way to the Airport on the last day and he asked if Ian would check out the rooms to see if the WAVE units would work there too.  Upon returning to Canada, Heather was delighted when she checked her email and saw the order for the Canopy Tower Family.
When asked to research the Canopy Tower Family for this newsletter I was not completely convinced that this would be a stand-alone story.  I told Ian that it should be included in our Hotel Pioneers article which discusses some hotels that adapted eco-friendly practices well ahead of the trend – boy was I wrong!  This hotel did not adopt eco-friendly practices; it was created for the sole purpose of nature conservation.  When I told Ian all of the information I had found out about his friend Raul, he was astonished.  "I have admired Raul for quite some time as one of the world's leading birding experts and environmentalists" says Ian.  "But I am totally flabbergasted to find out about his list of accomplishments and tribulations before he even began birding.  He has led a truly fascinating life that I was not even aware of and I am so proud our products can be a part of his lodging family that became the conclusion to such a legacy."
A significant amount of information contained in this story was acquired from http://www.canopytower.com/.
Written by: Michael Faulds