When we started this company we would have never predicted that our products would be used by some of the World's most famous people! 
Madison Square Garden
Just last month we were contacted by the Madison Square Garden, New York City who wanted to purchase our Classic Dispensers for use in the athlete's locker rooms.  There are some pretty big sports fans in our office so you can imagine our excitement to learn that we would be providing our quality product to be used by the current legends of New York such as Carmelo Anthony, Rick Nash, Amare Stoudemire, and Henrik Lundqvist!
Superbowl XLV, Dallas Texas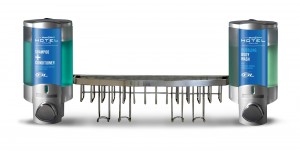 In 2011, we were asked to make a custom Dispenser for the Bud Light Hotel for Superbowl XLV!  Our AVIVA II Basket Dispensers that were already installed in the 193 rooms of the hotel (normally an Aloft location), were all redesigned with the Bud Hotel Branding Label and used for five days of Superbowl Festivities including performances by The Fray, Nelly, Pitbull, Ke$ha, Dierks Bently, Lifehouse, and Jack Ingram.  There was also an invitation-only Playboy party with performances by Snoop Dogg, Flo Rida, and Warren G.  Needless to say our Dispensers were put to good use!
Tampa Bay Buccaneers Training Camp
A few years back the Tampa Bay Buccaneers began using our AVIVA I Dispensers and Windriver Liquids in their training camp locker rooms.  Tampa Bay has yet been unable to repeat their dominant Superbowl victory over the Raiders in 2002, but managed to send players Vincent Jackson, Doug Martin, and Gerald McCoy to the 2013 Pro Bowl who then combined for three touchdowns in the game.  We have high hopes for their upcoming seasons and will be cheering them on all the way!