The Sonesta Collection is a global luxury hotel brand with more than 55 locations in 8 countries including The Sonesta Cruise Collection, a fleet of luxury river ships.
Sonesta also took advantage of the growing 'Extended Stay' segment and aggressively launched Sonesta ES Suites in 17 markets with the conversion of 15 Staybridge Suites and two Residence Inn locations. 'Extended Stays' provide more space and versatility for business travellers, vacationing families and guests relocating for an extended period of time. The segment has a higher occupancy rate than the rest of the industry.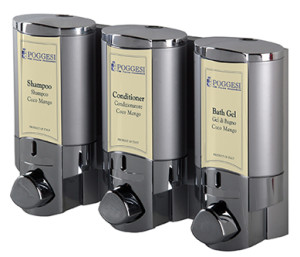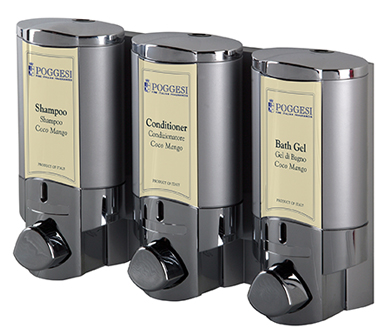 Sonesta has an overall green policy that embraces environmentally responsible initiatives wherever possible.  With this in mind, in 2013 Sonesta began transitioning all their Royal Sonesta Hotels and Sonesta Hotels in North America away from little bottled amenities to in-shower Dispenser Amenities systems to eliminate the product and plastic waste associated with single serving amenities.
Fresh on the heels of the success of the Dispenser program in both the Royal and Sonesta Hotels, Mike Wohl, Vice President Operations Sonesta ES (Extended Stay) brand made the decision to also implement the Dispenser Amenities program throughout the entire newly-launched 'Extended Stay' brand.  The Extended Stays have lower operating costs because, for example, they do not require daily housekeeping for all rooms.  This makes Dispenser Amenities the perfect delivery system for amenity liquids. A weekly top-up to the liquids is all that is needed!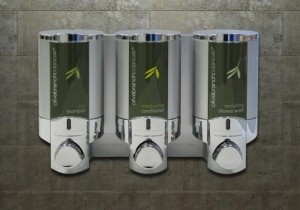 Today Dispenser Amenities systems grace the showers of over 6,700 guestrooms of Royal Sonesta Hotels, Sonesta Hotels & Resorts and Sonesta ES Suites. Sonesta's guests are pampered with an easy to read, easy to use push-button selection of liquids with AVIVA Dispensers that have been beautifully customized to match Sonesta's liquid brand.
Sonesta is not alone in realizing the enormous benefits of eliminating the small amenity bottles which add to worldwide plastic pollution.  Major hotel brands, cruise lines, spas and clubs are providing amenity liquids in attractive, easy to use dispensers and ensuring a more sustainable future today!