At Dispenser Amenities we have two goals: The first is to help the environment; the second is to save money for our customers.  Our shower and bath liquids are prepared in such a way that allows us to do both simultaneously!
Our shower liquids are packaged for maximum value, with minimal environmental impact.  Just imagine that instead of buying your liquids in 2oz portions, you could buy that same quality of liquid in 30 gallon portions.  The savings accumulated when you switch over from traditional single-use guest amenities is phenomenal.  On top of saving from the quantity discount, you will save the cost of the 70% of the liquid that would be thrown in the garbage had the liquid been packaged in single-use bottles.  Our liquids are available in 30 gallon, 5 gallon, 1 gallon, and cartridge quantities.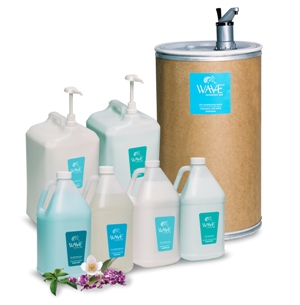 WAVE Spa Liquids, are extremely popular with our clients.  This #1 selling brand includes: Citrus and Sea Foam Body Wash, Rosemary and Mint Shampoo, Conditioner, and Lavender and Chamomile Body Lotion.  Although WAVE Spa Liquids are of undoubtedly improved quality over most single use offerings, they will cost you less money because they are packaged in the sensible bulk size to suit your property.
WindRiver Bath Liquids are thick and rich, freshly scented natural liquids that appeal to both Male and Female guests.  This product line includes: Grapefruit and Mint Shampoo, Conditioner, Tropical Blossom Hand Soap, Rainforest Breeze Conditioning Shampoo, Rosewood and Melon Body Wash, and Jasmine and Lilac Hand and Body Lotion.  WindRiver Bath Liquids are available in all five sizes.
Green Tea Shower Liquids are refreshingly light and smooth.  The delicious scent makes you look forward to your next shower!  This product line includes: Green Tea Body Wash, and Green Tea Conditioning Shampoo.  Green Tea Shower Liquid is available in 5 gallon, single gallon, and cartridge sizes.
H2O+  has partnered with Dispenser Amenities, naming us as the exclusive distributer of their Spa and Bath Aquatics products for bulk purchases.  H2O+ is a world class amenity supplier whose products you might be familiar with if you have been to Disney World.  Their Spa product line includes: Sea Marine Revitalizing shampoo, Marine Collagen Conditioner, Sea Salt Body Wash, and Hydrating Body Butter.  Their Bath Aquatics line includes: Body Balm, Shampoo, Conditioner, and Shower & Bath Gel.  All of our H2O+ shower liquids are formulated using natural aquatic ingredients such as marine botanicals, sea minerals, and plant extracts.  Both of the product lines are available in single gallon sized packaging.
We offer top quality liquids, all of which we guarantee to be more cost-effective than individual amenity bottles.  Our liquid brands are quickly becoming the travel industry standard.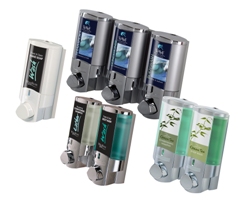 We have tested them in the consumer market and had very positive feedback.  If you are curious and would like to test our liquids for your hospitality location, just give Heather a call at 1-800-693-4756 or Email [email protected]
, refer to this article, and she will send you a samples of all our liquids, along with pricing information.  Also included when choosing Dispenser Amenities as your liquid supplier is the option of us customizing the faceplates on your AVIVA or WAVE Dispensers to coordinate with your liquid choice at no charge (see pictures above).