Norwegian Cruise Lines' newest and most innovate ship, the Norwegian Escape, launched in the fall of 2015 and is currently the largest in the fleet, with 19 decks and a guest capacity of 4248. Norwegian Escape is the third largest cruise ship on the planet.
Dispenser Amenities has a long and proud relationship with Norwegian Cruise Line. We provide every stateroom of NCL's entire fleet of 14 vessels with our locking AVIVA Dispensers 14 vessels, eliminating the product and packaging waste associated with individually packaged amenities.
When we introduced our customization options to Norwegian Cruise Lines, they were delighted and said it would become a must-have for all amenity Dispensers throughout their entire fleet. Today, beautifully custom-labelled AVIVA two-chambered Dispensers provide guests with easy- to- read push-button selection of shower liquids, while an AVIVA one-chambered Dispenser for hand soap complements the elegantly appointed vanity.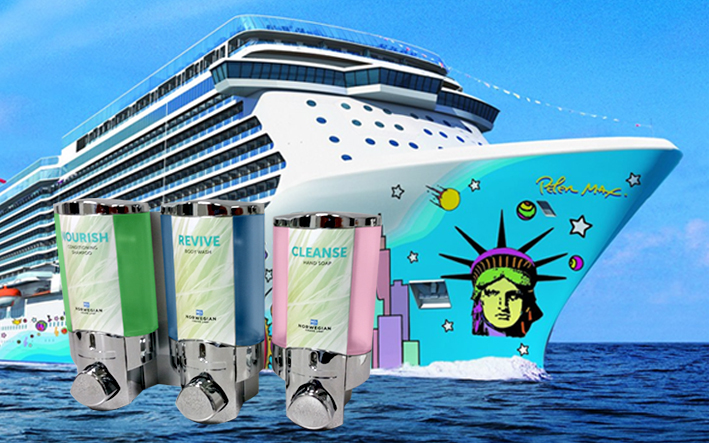 The Norwegian Escape is the first of the upcoming 'Breakaway Plus' class of ships and a home run for Norwegian. She will soon be joined by three sisters, the first of which is destined for the Asian Cruise Market in 2017.