Dispenser Amenities is the proud Dispenser brand standard in Marriott's Four Points, Aloft and Element hotel brands worldwide, along with the Sheraton Hotels in Japan.
Larry Mogelonsky, P. Eng.  of LMA Communications Inc. has penned a thoughtful and informative article in Hotel Interactive (May 16) about his recent visit to Japan and his stay at the Sheraton Grand Hiroshima. After experiencing our beautiful high quality Dispensers in the Sheraton Grand, he is a firm convert to Dispensers.
Please read his article and his prediction here — we couldn't have said it better ourselves! Larry isn't the only one taking notice of this burgeoning trend, though:
On May 1st, The Wall Street Journal Author, Scott McCartney, wrote an article titled "The Beginning of the End for Those Tiny Shampoo Bottles". This piece speaks to how two industry giants, Marriott and InterContinental Hotels, are both transitioning their shower amenities away from using disposable single-use bottles to bulk Dispensers and secured larger bottles.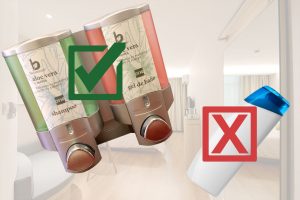 He elaborates that studies conducted by these hotels have concluded that travelers find the Dispensers easier to use than the bottles and also enjoy the extra volume of liquid which the Dispensers provide. Both the guests and the hotels appreciate that the incredible waste from using disposable bottles is eliminated.
On May 5th, LA Times' author, Hugo Martin, release his article titled "Tiny shampoo bottles are out at dozens of Marriott and InterContinental hotel brands".  This writer points out that both Marriott and InterContinental are moving away from disposable amenities because of the plastic pollution aspect involved with the disposables. He also notes that the inconvenience of the bottles being fumbled and stuck in drain pipes as a secondary reason.
The article also featured quotes from some of the brand executives:
"It's a great opportunity to test this on business travelers who come in and out of our hotels instead of guests who only visit once or twice a year," said Denise Naguib, Marriott's vice president for sustainability and supplier diversity.
"They love the in-shower, wall-mounted fixtures, easy-to-read labels, the well-known shampoo and bath brands, and having larger quantity of products," said InterContinental Hotels spokeswoman Ada Hatzios.
We at Dispenser Amenities are so delighted to see such a distinctive push towards renewable amenities from some of the world's top hospitality providers.