What began with an Invitation to attend the Starwood America's Leadership Conference on February 16th would lead Dispenser Amenities into a wonderful surprise. Just before leaving for the meetings in Denver that would include 1300 top managers from head office and properties of Starwood Hotels & Resorts Worldwide throughout the Americas, Dispenser Amenities President, Ian Wallace, received an email asking him to attend "a brief but important meeting" with Mr. Tad Wampfler, SVP and Chief Supply Chain Officer of Starwood.
Wondering what could possibly be the reason for this meeting and how many other suppliers would be present, Ian arrived at the Lounge of the Denver Sheraton Downtown for the 1:15 appointment to find that he was the only person present for this meeting. "I sat down with Mr. Wampfler and three other Supply Chain Vice Presidents and Directors", Ian says. "I was sure wondering what we had done that would cause us to have to meet with these Supply Chain executives? I had no prior indication that 'we were in trouble!'" Nothing could be farther from the truth.
After introductions, the discussion started with Tad Wampfler saying, "Starwood works with twenty-seven thousand suppliers in the Americas. And because of the superior service you have provided to our Hotels in 2015/16, Dispenser Amenities is receiving one of eight Supplier Excellence Awards that we are presenting at this meeting."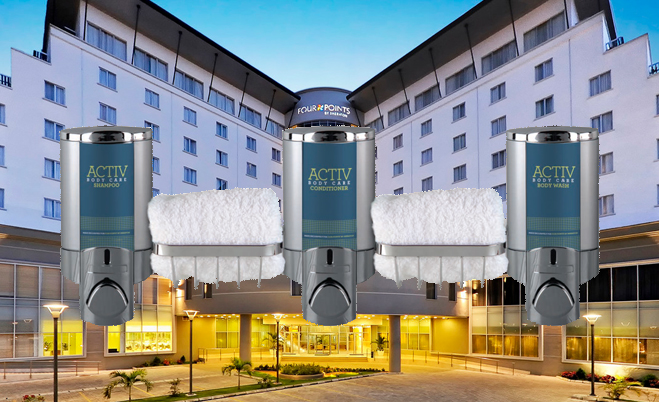 John Reardon, Vice President Supply Chain for Starwood, told the story of Dispenser Amenities being a single source supplier to Starwood globally. That is, all hotels must purchase their specified Shower Dispensers from only one supplier, Dispenser Amenities. "The company has designed specially customized Dispensers for our Aloft, Element and Four Points by Sheraton properties and they have delivered them where and when we needed them, with superior quality, throughout the world!" Single source supply is often a problem for Hoteliers as there is no back-up plan if there is a hiccup in the supply. Dispenser Amenities was able to provide delivery to the hotels, throughout the Americas, Europe, Africa and the Middle East (EAME) and Australasia, without fail.
The award, a handsome piece of art fashioned from brass and marble, was presented at the supplier reception held on the second evening of the convention. "It will sit proudly atop one of our office pedestals for all visitors to enjoy," says Ian Wallace. "This could not be more of a team award. It was not one or two individual delivery successes but twenty years of adding one brush-stroke every day to what has become a customer-service masterpiece. We are so proud and all of our people in every Sales Office and every Warehouse have played a role in this award"