Spas, Yoga Studios, Sport Centers & Country Clubs
Spa Shower Dispensers
Not your average Dispensers! Our beautiful product lines, bring elegance and beauty to both Spas & Yoga Studios. Each of our luxurious patented designs mount to any wall surface with the silicone installation kit included with every dispenser eliminating any wall damage. The easy pump system with a lifetime warranty ensures that your guests will get just enough liquids at the press of the button.
Sports & Country Clubs
The perfect Dispenser for golf clubs and sports facilities.  Some of the world's most famous facilities have discovered the savings, security, durability, and beauty, provided by our dispensers!  From travel destination golf courses, to local country clubs, to world class arena venues, Dispenser Amenities has the right fit for everybody!  Our products can also be found in select YMCAs, local recreation facilities, and were featured at the Bud Light hotel for the SuperBowl weekend.  Look for our Dispensers at some of the world's best golf courses like, Valhalla, Gold Canyon, and Scarsdale.  They are also used by pro-athletes at the Tampa Bay Buccaneer's training camp and the Madison Square Garden locker room.
Have it your way with iQon!
Our newest dispenser allows you to print and display your own custom graphics on the face of the unit.  For example here is a beautiful label we created from a picture of hole 17 at the beautiful Tower Ranch Golf & Country Club (photo courtesy of (http://villaorion.com/leisure/golf-paradise/).  For instructions on how to do this check out: https://www.dispenser-amenities.com/products/iqon/iqon-customization/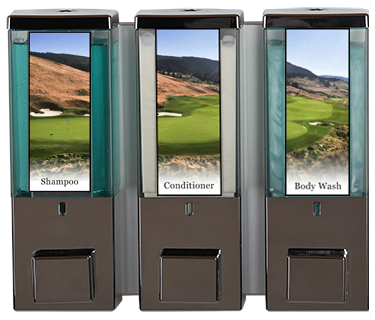 Shower Liquids
Our liquids are a favorite among many of the world's top rated spas. By purchasing in bulk you will save money, eliminate waste plus your guests will love the convenience. We manufacture three unique liquid product lines of body wash, shampoo, conditioner, conditioner shampoo, hand soap and lotion, WindRiver, Green Tea and our best-selling WAVE Sensation Spa liquids. When you purchase our liquids the AVIVA and WAVE Dispensers can be customized with our attractive easy-to-read designer labels at no charge.
Click on an image below to explore the liquid that best suits your property: