The SAVINGS System
Our Hotel Guest Amenities shower Dispenser system can save you 70% or more of your cost for liquid soap, shampoo, body wash and conditioner.  Here's how!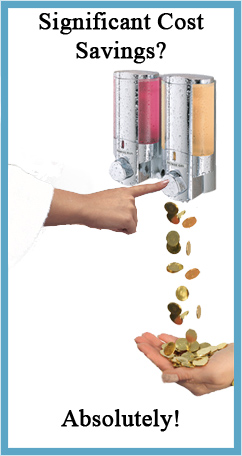 Switch to Bulk Liquids
Instead of buying liquids in one-ounce bottles and soap in individually packaged bars, you will buy superior quality shower liquids in the bulk size that fits your property…gallons, 5-Gallons or 30-Gallons.  Stop paying more for the packaging than you do for the liquids!
Stop paying for Wasted Liquids
The average amount of liquid Shower Gel, Shampoo and Conditioner and bar Soap that is thrown away after guest check-out is 70% to 85% of the contents.  With our refillable Shower Dispenser liquid waste is completely eliminated.  Pay only for what each guest uses, not what's thrown away or taken away!
Reduce Housekeeping Time
Instead of cleaning up the little bottles, restocking the cart and the guest room, Housekeeping time is cut on every occupied room.  Simply top up the Dispensers on a regular cycle based on your average occupancy.  It's fast, easy and efficient.
Eliminate the cost of Waste Removal
There is a significant cost to removing thousands of individually-packaged amenity containers from your property every month.  That's not to mention the environmental cost!