When it comes to hospitality trends, two things that never go out of style are simplicity and function. By offering these in a contemporary, 21st century design, while cutting down on waste, hoteliers can both satisfy and impress any guest that comes through their doors. Dispenser Amenities' SOLera Dispenser is the perfect choice for any establishment looking to take their rooms and waste management strategies to the next level!
Sleek, Sophisticated Functionality
The SOLera is the newest model in the Dispenser Amenities line, and it has been made to match any type of suite with ease and sophistication. The stainless steel pumps bring a modern aesthetic and convenience that will make any generation of guests feel they're at home. The satin silver finish will bring modern design and comfort to accommodations without creating large amounts of plastic waste. 
It's not just functional for guests, though. This new model continues our installation tradition of using an included silicone installation kit that requires no tools and prevents tile damage. Add it to any shower to offer your guests shampoo, conditioner, and body wash within arm's reach and without fumbling around with tiny, wasteful bottles. The matching body is made from ABS, a durable material that gives the SOLera lightweight strength. A tamper-proof gate will open easily for room staff to change, but won't be accessible to guests, adding an extra level of safety and security.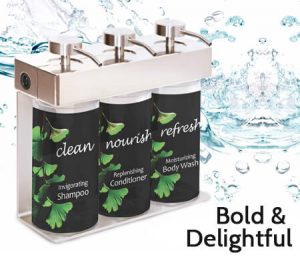 SOLera Gives You Choice
The SOLera model adds choice to your bathroom plans, giving hoteliers options between refillable or nonrefillable amenities, rectangular or oval-shaped bottles, and adjustable height to make room for larger bottles. No matter your style, SOLera will fit right in!
SOLera is also designed to afford hotels the opportunity to promote their brand, or at least make it clear what exactly is in the bottle. The oval bottle anchoring keeps the bottle in place with the brand facing outward, showing guests what they're using. No more small plastic bottles to fumble around with in the shower, hoping one is actually washing their hair with shampoo instead of body wash!
With a unique melding of form and function, its simple elegance will work with a wide array of suites and settings. It's a beautiful addition to any suite bathroom, regardless of the existing decor. The added bonus is that hotels can cut down on their waste, save money on amenities, and add extra convenience to their rooms. With SOLera dispensers, perfect service is only a pump away!