Our Customized AVIVA Dispenser was recently approved by InterContinental Hotels Group (IHG) for all Holiday Inn Express locations across Europe! IHG loved the quality of the AVIVA Dispenser, the huge environmental benefits and also the financial savings they offer properties. Popular worldwide, our sleek AVIVA units look just fantastic with the Holiday Inn Express labels.
Most recently, IHG's Holiday Inn Express, Rome, installed AVIVA Dispensers filled with Dispenser Amenities Eco-Wave shower liquids in all 86 rooms. The Holiday Inn Express, Rome will now contribute no small plastic amenity bottles going to local landfills!  In total, there are now 43 Holiday Inn Express hotels using AVIVA Dispensers across Europe.
Patrizio Piredda, General Manager of the Holiday Inn Express, Rome, says "The AVIVA Dispensers are fantastic! We are saving a lot of money, the housekeeping staff are saving time, and the product is excellent quality! We have also had great feedback from our guests!"
Thank you Holiday Inn Express, Rome, and all of the other hotels making similar efforts. Thank you IHG for setting such a great example for the rest of the industry by approving dispensers and for creating the Green Engage™ program, making strides to protect our planet's future!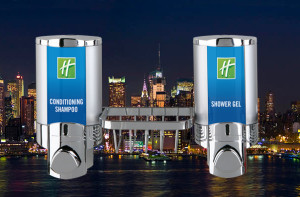 In 2013, IHG launched a set of sustainability standards featuring a new online sustainability management program called Green Engage™. The program is intended to help all IHG hotels address new sustainability standards in order to meet the expectations of today's eco-conscious travelers.  All locations associated with IHG now have access to the Green Engage™ online tool which details over 200 brand-approved environmental initiatives. These methods, used in combination, can reduce environmental impact and achieve energy saving up to 25%! 
Green Engage™ will be compulsory for all 4,700 IHG hotel locations by the end of 2015.  This will have a huge impact on our planet in raw energy savings alone.  According to IHG's Vice President, Paul Snyder, Green Engage™ is reported to have saved $73 million in raw energy costs from its inception through October 2014.
Rick Takach, president and CEO of Vesta Hospitality, said: "My hotels participate in the IHG Green Engage™ system because it makes absolute business sense. Through reducing utility consumption and costs and driving revenue. It is a no-brainer."
To see an industry leader like IHG implement a policy guaranteeing environmental reform across nearly five thousand hotels reinforces our belief in the future of green hospitality.