The race is on!  Whether it is to get hotels erected in China, or to accommodate the massive wave of Chinese travelers coming out of China, it seems like the entire hospitality industry is scrambling to get their share of this growth-trending market.
Out-bound Travel from China
There is wide speculation from several media and Government sources that China will overtake the United States as the world's largest source of outbound tourism by the end of this year.  Massive economic growth in China has quadrupled the average income in the country and unleashed a wave of spending that has left the hospitality industry, in particular, reeling!  Early in 2012 an around-the-world tour with a price tag of over $100,000 US, took only 13 seconds to sell out in China. The Washington post reported that in 2012 Chinese tourists spent $85 billion overseas. 
Since streamlining visas for Chinese tourists, the USA has experience a phenomenal increase in tourism from the country, as well as a very high level of spending from those visitors.  Ferdinando Guerra, of the LA County Economic Development Corporation stated that "the Chinese actually spend more than double the average international visitor, in California".
Thailand was certainly enjoying the fruits of increased tourism from China boasting 2.5 million visitors.  Hotels in the country, in many cases, were filled to capacity and tourists reported paying double the usual costs for various things.  Australian Tourism and Transport Forum Acting Chief Executive, Trent Zimmerman, attributed Chinese visitation to a 33% rise in international arrivals and $3.2 Billion in spending.  He also predicted that Chinese citizens taking overseas vacations would number over 100 million by 2015.  In April, 2012, Matt Thompson, project director for the China Outbound Travel and Tourism Market, attributed China's increased outbound tourism to expansion of China's middle class, increased support from Government, relaxation of visa application procedures, and the appreciation of Chinese currency.
Hospitality Development in Mainland China
Perhaps the only thing outpacing the excitement from the explosion of Chinese tourism abroad, is the frantic race to erect hotels to service the economic boom (and business related travel that goes with it) within China itself.  Alongside the dramatic increase in average income enjoyed by Chinese citizens combined with their vast population, comes a comparable increase in business related travel to China.  CNN Travel predicts that business related spending on travel to China will exceed that spent on traveling to the USA by about $12 Billion.
China is growing so fast that it is believed that development and increasing use of groundwater that many of the country's most developed centers are actually sinking.  This is believed to be the cause of a 26 foot-long crack that emerged at the Shanghai Tower Project (see right). The 4th Annual China Hotel and Resort Summit is scheduled for June 20th-21st, in Shanghai, China to discuss development opportunities and challenges.
The reaction from the Hospitality community has been similar across most major organizations whose collective reaction is an urgent need for rapid expansion of their service within the country.  Most worldwide brands are adapting their proven strategies into the market but they are facing fierce competition from a domestic brand with big plans of its own!
Ji Qi (shown left), founder of Hanting Inns, plans to own the world's biggest hotel chain by 2020 by opening a hotel every 2 days. "I first got the idea from a book introducing Accor, about how they open small hotels with less expensive but cozy, clean rooms," Qi told CNN's Richard Quest.  Qi keeps his hotels cost-effective by putting the majority of investment money into the guest rooms, while keeping the lobbies and common areas very simple and cost effective, in order to keep prices low.  This careful planning and bold strategy has enabled Qi to offer quality "no-frills" rooms beginning at $15 a night across the 1000 hotels owned in China mid 2012.
On the extreme opposite end of the spectrum, Starwood Hotels & Resorts has been creating some of the most breathtaking resort in the world in China. Opening August 1, 2013 is the Sheraton Bailuhu Resort, Huizhou (shown right).  This resort is built in the beautiful setting between the South China Sea and the Pearl River Delta.  As much as they are promoting the luxurious amenities at the facility, Starwood is emphasizing the business services and perks available there.  The most intriguing Chinese Starwood location, in my opinion, would be the Sheraton Huzhou Hot Spring Resort (see featured image at top).  This giant horseshoe shaped structure seems to rise up right out of the ocean; it is certainly a landmark to remember!
In turn, Dispenser Amenities' products are beginning to establish their own presence within mainland China.  Most Four Points by Sheraton locations and Aloft Beijing have already installed their custom made AVIVA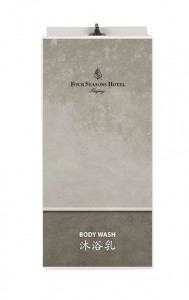 Dispensers, while the rest are scheduled to be installed soon.  Also look for our custom WAVE units in the spa at the Four Seasons Beijing! (shown left)
By Michael Faulds
Sources: http://www.cnn.com/2012/07/13/travel/china-hanting-inn-hotel, http://www.china.org.cn/business/2012-04/20/content_25190556.htm, http://www.chinahotelexpansion.com/, http://www.forbescustom.com/DiversityPgs/UnityFirst/12.01.09/ChinaLargestSourceOfTourism.html, http://news.travel168.net/focus_on/20121106/30013.html, http://inhabitat.com/chinese-cities-are-sinking-due-to-excess-groundwater-use-and-rapid-growth/, http://www.starwoodhotels.com/resorts/brands/index.html?region=CHINA&brandCode=SI, http://www.starwoodhotels.com/resorts/property/area/index.html?propertyID=3475, http://news.hiltonworldwide.com/index.cfm/newsroom/detail/14346, http://english.cntv.cn/20130306/105584.shtml, http://english.cntv.cn/program/china24/20130216/101704.shtml, http://travel.cnn.com/explorations/escape/china-beat-out-us-worlds-top-destination-business-travel-624089