Get the interactive pricing guide!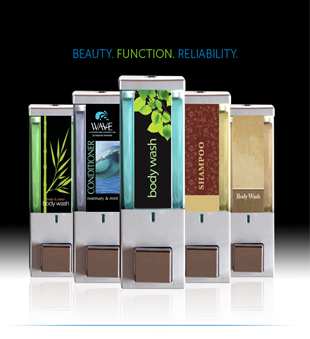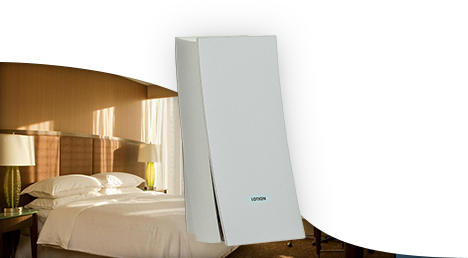 WAVE
The sleek appearance of the WAVE Shower Dispenser has made it a favourite among spas and hotels alike. It is available only as a single chambered unit and in the following finishes: Nickel, white, pearl white, and matte black. It is also popular to customize the faceplate with the property or liquid branding images. Some great customized units can be viewed at any of Hilton's Home2 Suites properties.
AVIVA
AVIVA is the most popular soap Dispenser, for hospitality, in the world. It can be customized and is available in nearly two dozen finish combinations. It is offered in one, two, or three chamber sizes. If you want to see some creative variations of this product, simply attend any of Starwood's Element, Four Points by Sheraton, or Aloft properties.
Supplying hotels with guest amenities products can be quite taxing. Stocking sufficient inventory needed to supply the product of choice, often numbering in the hundreds of units, is too large of an inventory commitment for most!
Our distributors leave this worry behind. When Dispenser Amenities chose to make our products available at wholesale rates for distributors to provide for commercial properties, we kept this issue in mind. Our decision to provide confidential drop-shipping for both the final sale, and any needed samples, has proven to provide and incredible benefit for our hospitality distributors!
Our lifetime warranty on the pump and valve functionality, two year warranty against manufacturing defects, along with our knowledgeable support staff, gives hotel distributors the confidence and resources needed to provide properties with the a value which will ensure repeat business.
Confidential drop shipping.
Preferred pricing.
Global brand recognition.
Free shipping on qualified orders.
No need to warehouse products.
Your customers will save up to 70% of their total amenities expense.
Compatible with all Liquid Brands.
All units are locking and secure.
Three different styles that are customizable (WAVE, AVIVA, iQon).
A lifetime warranty on pump functionality which can be honored through the distributor or Dispenser Amenities (Distributor's choice).