First
Matilda the Algonquin Cat, from the Algonquin Hotel, New York City is, to my knowledge, the only cat with her own Email address (matildaalgonquincat@algonquinhotel.com).  She comes from a long line of Algonquin Feline mascots dating back to the 1930's when a stray cat named Rusty sought shelter in the hotel.  Frank Case, owner of the Algonquin at the time, took Rusty in and renamed him Hamlet.  Since that time the hotel has always kept a feline mascot, Matilda being the 10th.  All male successors have been named Hamlet and all Females Matilda.  Matilda writes all pets who visit the Algonquin a welcome letter that includes her favorite things to do in New York.  Matilda's favorite food is Kitty Caviar and she loves to host charity events.  According to the Algonquin, the current Matilda was contacted by her predecessor (also Matilda) to take over as she was ready to retire.  The former Matilda was rumored to "roam the hotel" and frequent "private parties".  She also, at one time, had her collar stolen which was dubbed as "the Algonquin Cat-Burglary".
Second
In 1933 Frank Schutt, owner of the Memphis Peabody Hotel and friend Chip Barwick left live ducks in the lobby fountain after drinking too much Jack Daniels whiskey and a wonderful, near century-long tradition was born.  Since that day, the Peabody has kept live wild ducks at the hotel. Every day at 11am the official Peabody "March of the Ducks" takes place.  The ducks are brought from their rooftop palace down to the lobby where they walk down a red carpet to their marble fountain.  Here they remain, to the delight of guests, until 5pm when they again take the red carpet to make their exit.  A huge list of celebrities have come to witness the "March of the Ducks" including Oprah Winfrey, Michael Jordan and Justin Timberlake.  The ducks luxury rooftop palace was renovated in December 2008 for the 75th anniversary of the tradition at a cost of $200,000.  It includes granite floors and a bronze statue in the fountain and a scale replica of the hotel where they can huddle up.  The ducks are wild ducks that are caught every 3 months and then returned to the wild and a new flock is brought in.
Third
Higgins from Kimpton's Hotel Palomar Dallas has been named Director of Pet Relations!  This adorable Beagle was adopted by the Hotel Chef Concierge Andrew.  Together they offer pet guests of the hotel the WAGS package.  This package aimed at VIPs (Very Important Pets) is aimed at making the hotel stay enjoyable for animals.  Upon arrival, all pets are greeted with a "goody bag" containing treats and amenities for pets.  If you don't have a pet, don't worry, all Kimpton Hotels offer a loaner pet goldfish to their guests!
Fourth
The Seaport Boston Hotel has a quarter million animal mascots – Bees. The bees in the region recently had problems with Colony Collapse Disorder, a problem that causes Colonies to mysteriously die.   So to help preserve the bee population the Seaport has adopted these cool little guys!  The Seaport's Executive Steward Edwin Medrano is in charge of looking after the bees and attended "bee school" to ensure that they will be cared for properly.  The Seaport harvests honey from the bees which is served in their restaurant, the TAMO bar.  In a June 2012 Great Wide Open article, Edwin announced his goal to harvest 300 to 500 Pounds of honey in 2012 and it was reported by 1000 Words that on July 25, 2012 he harvested 400lbs.  The Bees are kept on a 5th floor roof deck.  They travel to the Rose Kennedy Greenway and the Boston Common, but always return home to their queen.
Fifth
How would you like to stay at a hotel where you are greeted with a big sloppy kiss from a Giraffe?  At Giraffe Manor in Nairobi Kenya it's all part of the experience.  The hotel is called home by a herd of rare Rothschild Giraffes.  Guests at the hotel can interact with the Giraffes who have become quite accustomed to Humans and often visit guests by sticking their heads through open windows.  In a Trip Advisor forum chat one user commented on how she thought the younger Giraffes were better kissers!  Guests can feed the Giraffes and hotel staff will also take guests on safaris into the African plains to see the other magnificent animals in the area.  When you stay at the eco-friendly Giraffe Manor, a percentage of your accommodation charge is automatically donated to the African Fund for Endangered Wildlife, which has set up a Giraffe Centre as a breeding place for the endangered and beloved Rothschild Giraffe.
Our Mascot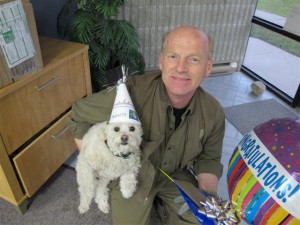 I couldn't write this article without mentioning Dispenser Amenities' own mascot – Nutmeg!  Nutmeg is our 6 years young Maltese poodle.  She lives with our sales and administration expert, Heather and has worked the 8 to 5 shift at our office since she was a young pup.  She has a life-long passion – eating Snauseges.  Nutmeg feels she should be rewarded with snauseges for every action in her life.  If Nutmeg has just come in from outside, sees anyone come into the office, or hears her name mentioned in any context, she gets all excited and jumpy,  ready for her reward.  Normally she is pretty calm.  She enjoys sun-tanning belly-up by the door where the sun shines in, barking at squirrels and riding home in a back seat tent pitched for her in Heather's car so she won't be scared of the window.  She spends her days patiently waiting for Carl (shown above with Nutmeg), our UPS driver to show up at 4pm and play with her.  Around 3:30pm she starts getting excited about Carl's visit and pacing around the door.  When Carl finally shows up she gets so excited that she barks and jumps with her front paws frantically clawing the door.
Written by:  Michael Faulds
---